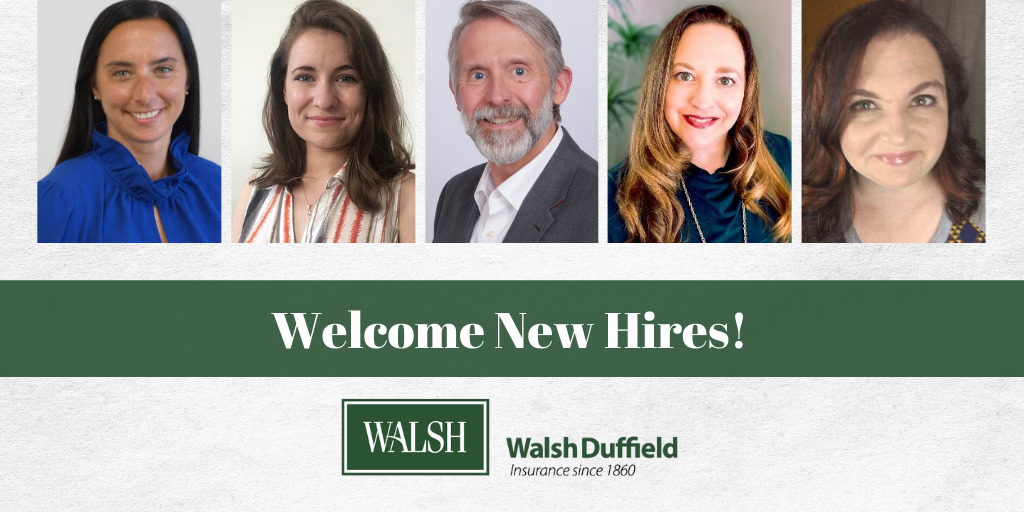 As we continue to learn and grow in 2021, Walsh Duffield is pleased to announce 5 new hires that have helped us continue to thrive as your trusted insurance partner.
We are happy to welcome the following new team members:

Suzannah Emerson – Benefit Service Coordinator
Suzannah Emerson has joined Walsh Duffield as a Benefits Service Coordinator, in the Buffalo office. Within this role, Suzannah will focus on servicing large group employee benefits clients.
Suzannah is a graduate of Gettysburg College where she obtained a Bachelor of Arts degree in Mathematics. Prior to joining the Walsh team, Suzannah worked for 7 years as a Project Coordinator in the Museum Education industry. She brings with her a passion for detail, client education, and project management.
Jaime M. Ferrentino – Client Service Coordinator, Commercial Lines
Walsh Duffield welcomes Jaime Ferrentino as a Client Service Coordinator for the Commercial Lines Division. Within this role, she will focus on servicing for commercial insurance customers and carrier partners. Jaime joins Walsh Duffield with over 10 years of operations management and customer relations experience – including a focus on sales, project management, and process improvements.
Jaime graduated with a B.A. Legal Studies from the University of Wisconsin at Madison where she was an NCAA Division 1 College Athlete, playing Women's Ice Hockey.
Kara K. Rozak – Personal Lines Service Account Representative
Kara Rozak has joined the Walsh Duffield team as a Personal Lines Service Account Representative in the Buffalo office. Within this role, Kara will focus on customer service for our personal insurance clients including answering questions about billing and plan changes, handling third party requests, and working with our carrier partners.
Kara has over 18 years of experience in customer service & relations, and most recently joins us from Lawley where she worked as a First Aid Claims Administrator, processing first aid claims for workers compensation. Kara is a graduate of Buffalo State with a focus in Arts Management.
Paula Venne – Medicare Consultant
Walsh Duffield is pleased to welcome Paula Venne as a Medicare Consultant. Paula will focus on advising, selling, and enrolling Medicare Advantage, Medicare Supplement, Prescription Drug Plan, and other ancillary insurance products to new and existing clients.
Paula is AHIP certified for Medicare and is an authorized broker on the New York State of Health Marketplace. She joins us from BlueCross BlueShield of WNY where she has 10 years of experience assisting Medicare and New York State of Health clients and hosting educational and networking events within the community. Paula serves as a board member for the Network in Aging.
Michael Winter – Retirement Plan Consultant
Michael Winter has joined Walsh Duffield as a Retirement Plan Consultant. Within this role, Mike will serve retirement plan clients through investment reviews, vendor analysis and client advocacy. He will also lead participant education initiatives for our retirement plan clients.
Mike comes to us with over 25 years of financial services experience, primarily in banking. Mike has been in relationship management roles with a global bank for the last 15 years, most recently serving in a role to educate and encourage employees to bank and invest where they work. Mike has also been a Junior Achievement volunteer since 1985.
Could you be our next great hire?
Visit our careers page to learn more about working at Walsh Duffield and view open positions!