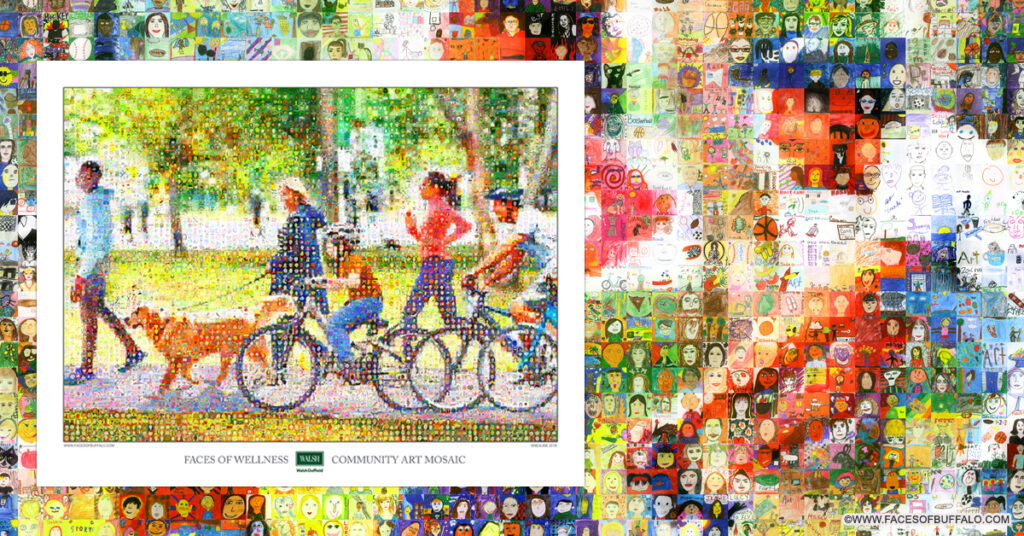 At this busy time of year, it's important to remember that we are all better together! Despite the hustle and bustle of year-end, the offices of Walsh Duffield took the time to unite under one roof for a full-day retreat at Beaver Hollow Conference Center.  We were provided the opportunity to celebrate our many successes over the last year and to strengthen one of our most valuable assets … our team.  We know that it's important to continue to learn and grow. This day provided us a unique platform to learn from other experts in our field as well as from our very own colleagues.
We celebrated our continued growth in size and experience by welcoming a dozen new hires across departments and locations this year!  All of these new roles offer a greater depth of specialization throughout our agency.  During our retreat, an art mosaic was unveiled – up close you'll notice that the image is comprised of small pictures of each and every one of our associates.  Take a few steps back and you'll quickly see that the individual images make up a larger picture – a group of active people in a park. This creative piece of artwork will hang proudly in our office as a reminder that our success is derived as a collective team.
Our all-agency meeting provided the perfect platform to make plans for 2019 to find ways to serve our clients, our community and our colleagues.  We are honored to work with many great partners to serve the needs of our many valuable customers – individuals, families, and businesses across WNY. We have worked hard this year to help keep you safe and well and we look forward to continued success in 2019.
Thanks for being part of our team and cheers to a prosperous new year from all of your friends at Walsh Duffield!
Ted Walsh
President & COO
twalsh@walshins.com
Art Mosaic created by Faces of Buffalo Community Art Mosaics