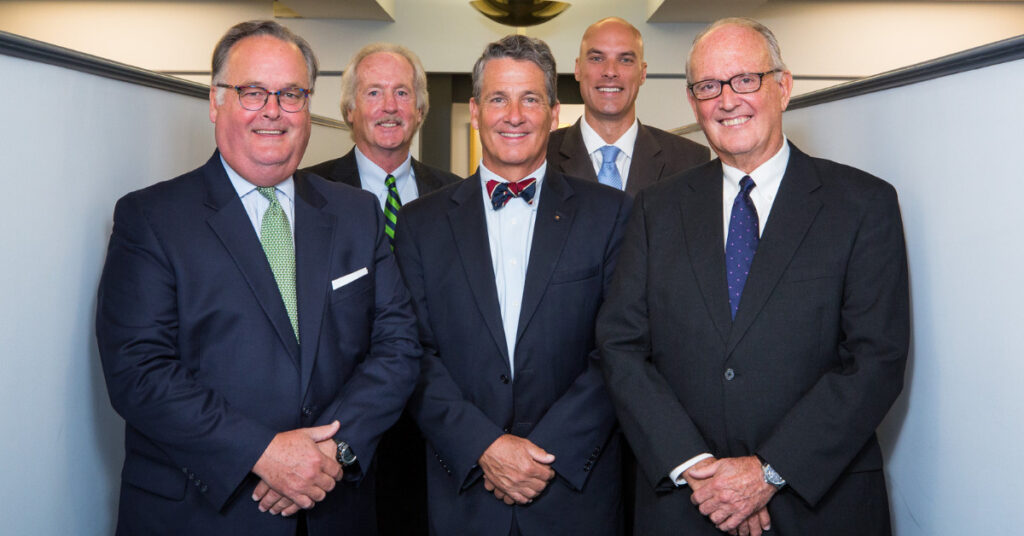 Walsh Duffield Companies Inc. announced leadership changes at our executive level as the fifth generation of family takes operational control of the business.  Since 1860, Walsh Duffield has been a family owned, independent insurance agency, offering personal and commercial insurance, employee benefits and retirement solutions to clients across WNY.
Sean Keenan Becomes Fifth Generation Leader
Sean Keenan, son-in-law of Edward (Ted) Walsh Jr., represents the fifth generation of the Walsh family to run the agency, and effective immediately has been named President and Chief Operating Officer.  Ted Walsh has passed the operational oversight to Sean and is now Chief Executive Officer – planning to take a more strategic role in the company's future.
"We have been preparing for this shift for quite some time and we are proud to be able to officially pass the reigns to the next generation of family as we watch our business continue to grow.  It is important to us to remain an independent agency as we continue to focus on organic growth and operational excellence, and Sean is the right leader to help us with our vision," explains Ted. "It is rare for an organization to be able to thrive into the fifth generation of family, and I think our success speaks to the culture that was foundationally built by the generations before us.  Family extends beyond just the Walsh name for us.  We are a close-knit group, and we are proud of the fact that many colleagues are related to others within the agency – husbands and wives, cousins, parents and children."
"I am extremely humbled and honored to help lead our organization forward and build upon the wonderful foundation that already exists," said Sean.  "The success of any company is a direct reflection of its' people and I am proud of the great team that I get to work alongside every day. Walsh Duffield will continue to focus on innovative ways to deliver unique solutions to our clients and Western NY communities that mean so much."
Executive Leadership Changes
The agency has five current shareholders: Ted Walsh and his cousins, Michael and Theodore (Barney) Walsh; Sean Keenan; and Christopher Kempton, the only non-family member owner. As part of the succession plan that is in place, along with this operational shift comes executive leadership changes.
John (Jack) Walsh III, fourth generation leader and former CEO, continues to act as Chairman, with an active role in community relations.
Michael Walsh has been named Executive Vice President & Secretary, aligning with Ted to focus on strategy and achieving established goals for the agency.
Barney Walsh has been named Executive Vice President & Rochester Market Leader, focused on managing and growing Walsh Duffield's Rochester operations.
Christopher Kempton has been named Executive Vice President along with his responsibility as Group Benefits Director and will work closely with Sean to increase organic growth and focus on an engaging customer experience across lines of business.
Additionally, Patrick Liddell has been named Treasurer and Patricia Diebel has been promoted to Vice President of Finance & Administration.
Learn more about the Walsh Duffield history.
Read More
Buffalo Business First – Fifth Generation Takes Over at Walsh Duffield
Buffalo Business First – Family-owned Walsh Duffield enters Fifth Generation of Management