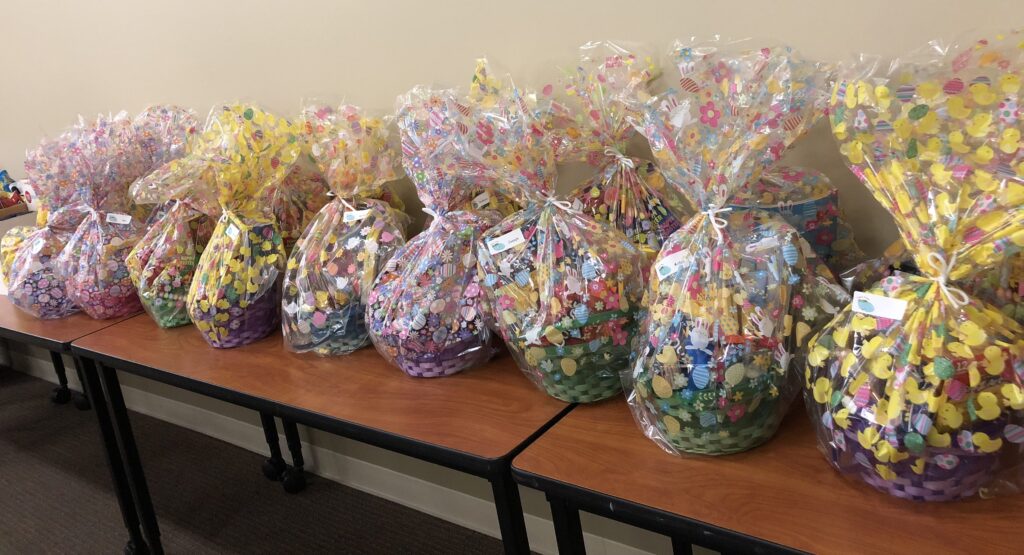 Spring has sprung, and for the Walsh team, that means it is the time of year to complete one of their passion projects.  For the 19th year in a row, the staff at Walsh Duffield has come together to collect supplies and assemble Easter baskets for the residents in need at Child and Family Services.
This year the team has assembled and donated 24 baskets for the children in the residential services department.  In addition, donations were made to the Haven House and Morey House residents.  Donations include everything from socks and personal hygiene items, to activity books and delicious candy, as well as a range of gift certificates for fun activities such as movies, mini golf, arcades and indoor play centers.
Led by Grace Brightman and MaryEllen Downey, the Walsh team is dedicated to this project every year and the internal support just keeps growing.  "The tradition started when we began working on the Child and Family Services account and toured the facilities and met some of the children.  It's all about the kids, and for me it is a wonderful feeling knowing that they will wake up Easter morning and have a basket to look forward to." Brightman explains.
"I remember how exciting it was to wake up to surprises on Easter morning, so it is great to see the team come together to support this project," Downey said. "At Walsh, we are committed to supporting our community and this is a great example of a longstanding tradition that helps us bring joy to others."
For more than 140 years, Child and Family Services has dedicated its resources to meet the needs of children and families. One of Western New York's oldest human service agencies, Child and Family Services fosters safe and healthy environments for children and families in local homes, schools, workplaces and communities.  Child and Family Services strengthens families and promotes the well-being of children through prevention, intervention, education and advocacy.
Residential Services
Child & Family Services' Residential Services Department provides individualized intensive treatment for boys and girls up to age 21 that are unable to remain in their own homes due to their behavioral and emotional needs. Our staff provides treatment in small-group settings to help children overcome the obstacles and traumatic experiences that may affect their behaviors and prevent them from living at home. Through dedicated care, treatment, and supervision, children learn the skills needed to prepare for discharge back home or to another type of residence.
Morey House
Certified by the Office of Child and Family Services, Morey House Group Home Morey House is an eight-bed group home program that provides community-based group living care and treatment for boys 13-21 years of age who exhibit severe emotional disturbance and are experiencing difficulties in their family, school, and community. The goal of the program is to teach the youth skills needed to return home to their family or another permanent family situation or if that is not possible, prepare for an independent living situation.
Haven House
For over 35 years, Haven House has been working to prevent domestic violence/intimate partner violence and promote peace in the home. Services are based on a continuum of care ranging from a fully-inclusive emergency shelter in a confidential location to long-term transitional housing