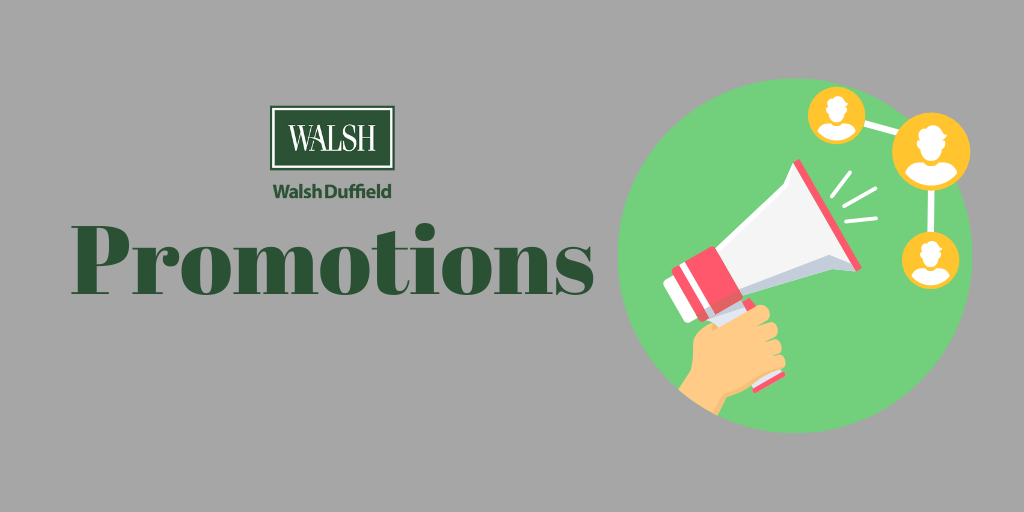 We would like to congratulate the Walsh Duffield colleagues who have had recent promotions and responsibility changes in 2022.
Employee Promotions
Victoria Church has been promoted to Client Relationship Associate.
Over the past 3 years, Victoria has served as a key member of the Commercial Lines team supporting our Client Relationship Associates and Client Relationship Managers with their customer needs. In addition, she has been a part of the Surety service team that handles our client's bonding requests. Victoria is currently pursuing her AINS designation. We are excited to see Victoria take this next step in her career and assume the responsibility of supporting client accounts directly.

Jaime Ferrentino has been promoted to Client Relationship Associate.
Jaime took the opportunity to support our commercial customer relationships early in her career at Walsh Duffield and her flexibility and dedication to learn "on the job" with client accounts has helped her grow. Jaime will start to pursue the CPCU as her professional designation over the next year.

Rebecca Lindsay has been promoted to the Manager of Group Benefits Operations.
In the past twelve years Rebecca has accomplished great things as an Account Executive and Compliance Specialist on our benefits team. Among her many achievements, she has developed exceptional knowledge and expertise in the employee compliance field while still managing key employer groups. In her new role, Rebecca will oversee our account management team along with the choice business accounts to improve our overall client experience.

Jeremy Zolnowski has been promoted to Manager of Personal Lines Operations & Marketing.
Jeremy has worked for Walsh Duffield for eleven years and has helped shape the Personal Lines Marketing Department. As a Marketing Team Leader for the past four years, Jeremy placed a strong emphasis on new business growth and policy retention. His influence on sales and policy retention has been substantial and he possesses an excellent record of customer relations and timely service delivery. During Jeremy's time in the Marketing Department, he has implemented protocols which have improved efficiency in the Personal Lines Division and has frequently been recognized for outstanding achievement. His additional duties will now include personnel responsibilities, implementing workflows, and developing a smooth process for cross sell and account rounding opportunities inside of Walsh Duffield.
New Roles

Amanda Metzger has joined the Commercial Insurance team as Client Service Coordinator
Amanda has been with Walsh Duffield for the past 13 years as an Accounting & Administrative Associate. Within her new role in Commercial Lines, she will be focused on providing administrative support to our clients and the Walsh Duffield account team. Amanda will assist with collecting account information, completing service requests and helping to prepare client proposals.

Marie Story has accepted a new position in the Benefits Division as an Account Executive.
For the past 8 years, Marie has successfully developed the Walsh Duffield Wellness team into the market leader, working with our largest accounts on improving their employees' health. In her new role, Marie will utilize her current skills to work with some of our largest accounts and advise them on current benefit strategies as well as population health management programs.