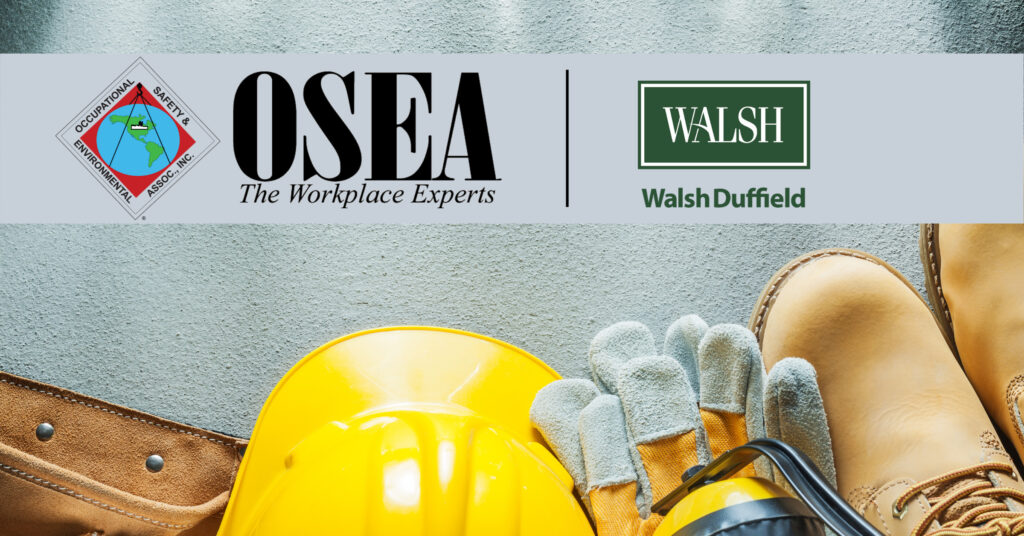 Walsh Duffield is pleased to announce a partnership with OSEA, Inc., a 30-year-old environmental, health, safety and security consulting firm, to provide Risk Management services to our commercial insurance clients.
As part of the relationship, OSEA will provide a full array of proactive safety consulting services designed to help reduce accidents, enhance incident response, lower the total cost of risk and address regulatory compliance matters.
OSEA's support of Walsh Duffield's clients will include:
Onsite risk managers
Safety audits
Employee training
Industrial hygiene
Environmental guidance
Litigation support
"Our partnership with OSEA allows us to proactively identify and address our client's exposures. This strategic resource enhances our risk management capabilities, with the ability to tailor services to meet the specific needs of our insureds," explained Sean Keenan, President & COO of Walsh Duffield. "It felt like a natural next step as we work to keep our clients safe and well and expand our reach across WNY."
"We are extremely excited to enter into this relationship with Walsh Duffield Companies," said Joseph Coniglio, President, OSEA, Inc. "As two like-minded organizations committed to protecting our community, we look forward to the value we can jointly bring to area businesses."
Both of our firms are family-owned, local businesses that are respectively sought after for solutions, products and knowledge in insurance and risk management.
Who is OSEA?
OSEA, Inc. is a Buffalo-born, global provider of environmental, health, safety and security consulting and technology services. With offices across the East Coast, OSEA has been providing consultative services to construction, manufacturing, pharmaceutical and government entities for more than 30 years.
With more than 35 professionals on the team, OSEA is capable of providing top-notch services to clients of all sizes, anywhere in the world. The OSEA staff consists of Certified Safety Professionals, Certified Industrial Hygienists, Construction Safety Managers, Expert Safety Trainers, Expert Litigators, and Fire & Emergency Service Managers.
Priding themselves on quality and ingenuity, OSEA pairs traditional consulting services with proprietary safety technology applications to support clients with proactive safety solutions at a fraction of the cost compared to others.
Learn More
Contact us learn more about the risk management and commercial insurance solutions we offer.