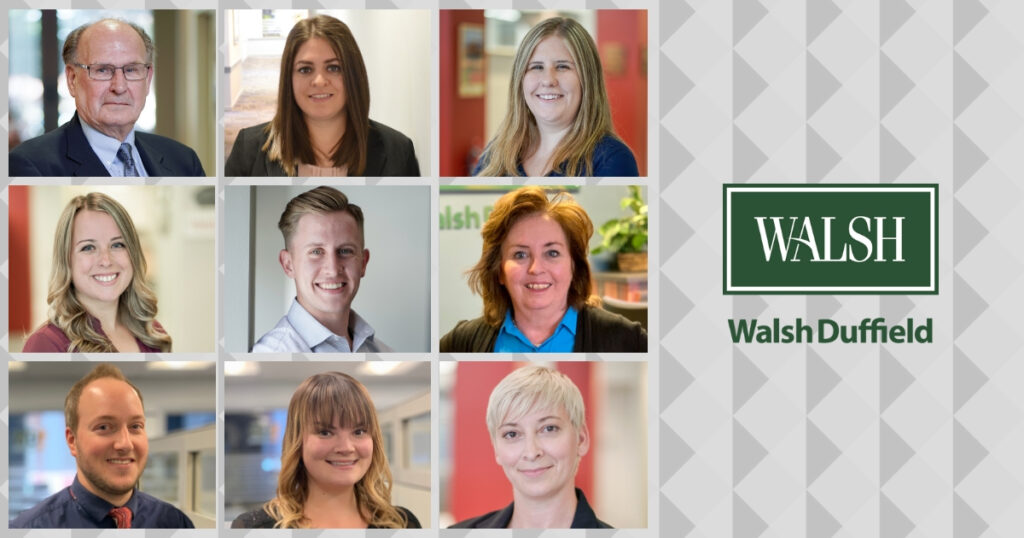 As we approach the holidays, now is a good time to reflect on the positive things that have been accomplished in 2019 and express gratitude to others around us. This November, we are thankful for our wonderful clients and our hardworking team – including nine new additions that have helped us continue to thrive as your trusted insurance partner.
In 2019 we have welcomed nine new hires:
Angela Monaco
Walsh Duffield has hired Angela Monaco as an Account Executive within our Group Benefits Division. Within this role, Angela will service small employer group accounts. Angela continues to work as an adjunct professor at Bryant & Stratton College, and previously worked at Independent Health in a variety of roles including sales, customer service and provider relations.

Beth Robson
Beth Robson was hired as Receptionist & Accounting Associate in our Rochester office. She joins our team with over 21 years of experience providing financial, administrative, managerial, asset management and sales support. Within this role Beth will welcome clients and support our administrative team in an accounting capacity.

Carl DeMarco
Walsh Duffield has hired Carl DeMarco as a Benefit Analyst to focus on large employer benefits accounts. Within this role, Carl will analyze the financial condition of employee benefit plans and products and identify critical information to better manage and control future costs. Carl joins us with experience from the banking industry and most recently as a data analyst at Liazon.

Patrick Hurtubise
Walsh Duffield welcomed Patrick Hurtubise as a Commercial Lines Account Executive. Within this role, Patrick will service small and medium commercial clients. Patrick has worked in various insurance roles, most recently joining us from Hoffman Hanafin & Associates where he handled small business accounts. Patrick graduated from Canisius College with his BS-Economics and is currently working on his MBA at Canisius College. He holds both his NYS Property & Casualty Insurance and Life, Accident & Health Insurance Licenses.
Howard Wilson
Howard Wilson was hired as a Medicare Account Executive. After working as a Financial/Business Analyst with Ford Motor Company, Howard has come out of retirement to serve the Medicare community. Over the past few years he has had experience as a Medicare advisor at both Independent Health and Blue Cross Blue Shield of WNY. Within this role, Howard will make group presentations and meet one-on-one with Medicare-eligible individuals to help them understand and select their plan options.
Victoria Church
We have welcomed Victoria Church as an Assistant Account Executive within the Commercial Division. Victoria joins us with a strong background in relationship building and administrative support. Within this role Victoria will assist in servicing our commercial clients. Victoria holds her Property & Casualty License and is working towards obtaining her License in Life Accident and Health.
Jillian McCarthy, CPA
Jillian McCarthy was hired as Assistant Vice President – Finance. She is a licensed CPA and comes to us from Chiampou Travis Besaw & Kershner LLP, where she worked as a Senior Accountant. Within this role, Jillian will be responsible for assisting in the managing of the company's financial and administrative functions, and to ensure accurate financial records for the organization.


Jessica Hughes
Walsh Duffield welcomed Jessica Hughes as an Assistant Account Executive within the Commercial Division. Jessica joins us with over 9 years of administrative experience across the industry including positions at Independent Health and most recently Sheridan Benefits, LLC. Within this role Jessica will assist in servicing our commercial clients. Jessica holds her Property and Casualty License and Life Accident and Health License.
Molly Brown
Molly Brown joined our Group Benefits team as a Benefit Service Coordinator. Molly joins us after several years in the benefits industry, most recently as an account manager at Stahlka Agency. Within this role Molly will provide day-to-day support to group benefits clients and work with carriers on renewals and proposals.
Could you be our next great hire?
Visit our careers page to learn more about working at Walsh Duffield and view open positions!