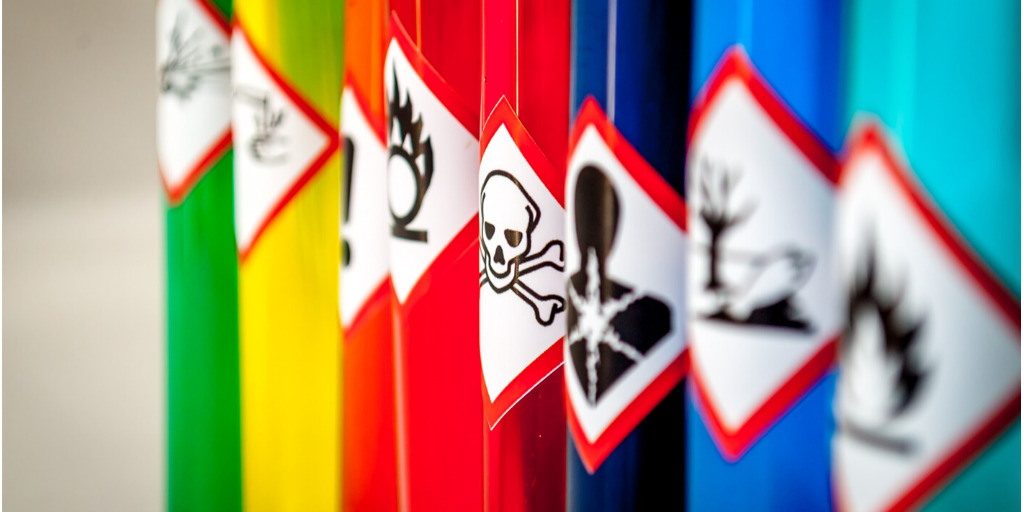 What is Hazard Communication (HazCom)?
Hazard Communication (HazCom) is all about identifying chemical hazards in the workplace and communicating these hazards to ensure a safe and healthy work environment. This has been a hot topic in safety since 2012, when OSHA updated its standard to align with the UN Globally Harmonized System of Classification and Labeling of Chemicals (GHS). This update brought about a more standardized way of classifying chemicals and communicating hazard information on labels so businesses can more easily trade, handle, store, and use hazardous chemicals. It also introduced the Safety Data Sheet (SDS) with a specified 16-section format. The SDS replaced the Material Safety Data Sheet (MSDS) which was not regulated nor standardized in format.
As of June 1, 2016, employers are required to be in full compliance with GHS. This includes HazCom program updates, training of employees on new hazards identified during the reclassification process, an update of workplace labels, and any other applicable requirement in the HazCom 2012 update.
Evaluating Your HazCom Program
Fast forward to 2021, how's your HazCom program looking? Here are a few key questions to ask yourself when evaluating your existing program:
Have you updated your program to fit the GHS standards accordingly?
Have your employees been trained in the new HazCom/GHS standard?
Have all of your workplace labels been updated and have you phased out all MSDSs and replaced them with the proper SDSs?
Chances are your answer is "mostly." When it comes to the SDSs, you are likely waiting on your suppliers to switch over (if they haven't already), and if they are still giving you MSDSs – than it is likely that they are still waiting on the chemical manufacturers to update/switch to the SDS format, a vicious cycle. Unfortunately, there are still chemical manufacturers as well as suppliers who have missed the deadlines, there are a whole host of products with SDSs unavailable.
When this happens, it is up to you to do your due diligence to ensure you have the most up to date datasheet. Ask your supplier(s) for the official SDS, if they don't have it or are unable to get it, reach out to the chemical manufacturer – some post them right on their website, others you have to request through email or writing. Ensure that you are documenting your efforts should an OSHA inspection occur while you are waiting for the SDS, an excel spreadsheet with the product name and identification marker; manufacturer name, address and phone number; date of SDS/MSDS that you have, and notes/status indicating methods you took to obtain the SDS is an efficient method for this – this actually becomes (or if you already have it – it updates) your chemical inventory list, another HazCom requirement! This chemical inventory list becomes a great table of contents for your SDS book (whether digital or kept in a binder.)
It is up to you to protect your workers from harmful chemicals and in order to do that you must maintain SDSs in the workplace/on the job site! Remember, do your due diligence – never accept that an SDS just "isn't available." Look for it, document your efforts, and protect your business and employees!
If you need help, or would like to review your Hazard Communication policy, contact the professionals at OSEA, Inc.
Author:
Amanda Coniglio
Director, Technical Services – OSEA, Inc.
amandaconiglio@osea.com