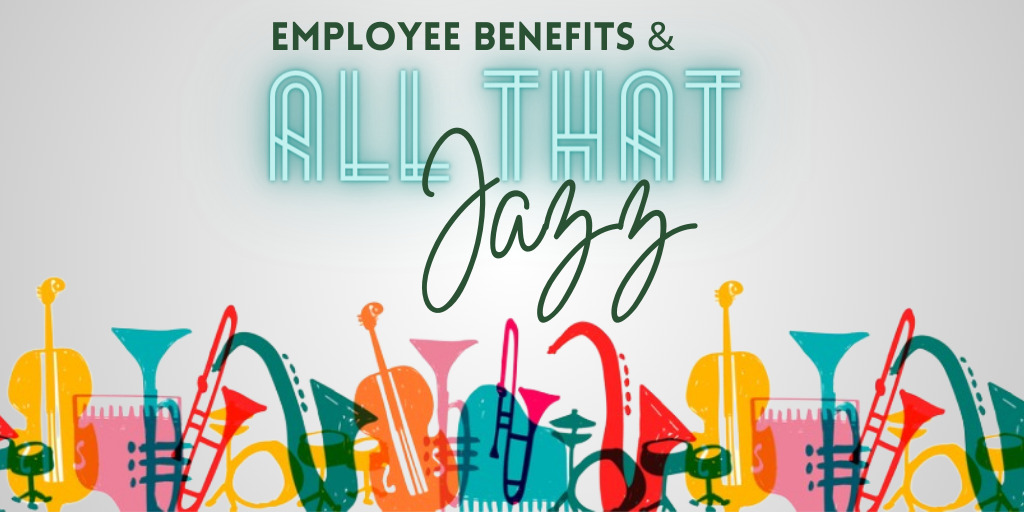 You're Invited!
We're happy to announce that we will be hosting an in-person benefits seminar this year! Join us for breakfast to discuss Employee Benefits – And All That Jazz at our half-day event on June 13th with engaging speakers, vendors and an opportunity to network with fellow HR professionals and business leaders. In addition to our in-person event, we will host a series of virtual webinars this summer discussing key topics impacting HR and employee benefits.
In-Person Seminar
When:
Tuesday, June 13th
8:00 a.m. – 12:00 p.m.
Where:
Reikart Banquets at Jazzboline
5000 Main Street
Amherst, NY 14226
Agenda:
8:00am – 9:00am: Registration, Breakfast & Vendor Fair
9:15am:  Welcome & State of the Marketplace
9:30am: GreenForce: Empowering Communities, Cultivating Talent, and Securing Long-Term Success
Presented by: Jon M. Williams –  CEO, Viridi
Overview: Attracting and retaining qualified employees continues to be a challenge for employers across industries.  Traditional job postings do not always attract the right talent that make for tenured employees.  In this presentation Jon will discuss the approach his rapidly growing organization is proactively taking to keep up with the need for a strong employee foundation through the establishment of GreenForce, a not-for-profit job opportunity agency that recruits and trains workers for Viridi.  The creation of GreenForce contributes to Viridi's vision to contribute to the economic health and resilience of the communities in which it operates, in East Buffalo and beyond.   
Jon's presentation will educate attendees of the growth happening in Buffalo, inspire other organizations to think outside of the box when approaching recruitment challenges and provide creative ways outside of the interview and job offer process to keep talent within the organization long term.    
10:30am – 10:45am: Break
10:45am: Legislative Updates
Presented by: Frank Kerbein – Director, Center for Human Resources at The Business Council of New York State, Inc.
Overview: The New York State legislative landscape is constantly changing, and businesses of all sizes need to stay informed about the latest updates to remain compliant with state and federal regulations. In this presentation, we will focus on the most recent legislative updates in New York State and how they impact HR policies and practices.      
We will discuss recent changes to minimum wage and overtime regulations, paid family leave, discrimination and harassment laws, and workplace safety standards, among others. We will explore the practical implications of these changes for businesses and provide guidance on how to remain compliant with state and federal regulations.   
This presentation is designed for HR professionals, business owners, and anyone responsible for managing HR policies and practices. By attending, you will gain valuable insights and practical tips for navigating the complex landscape of New York State employment law and ensuring that your organization remains compliant with all relevant regulations.   
Webinar Series
In addition to our in-person event, we are happy to share these remote learning opportunities with you throughout the month of June.
Date: Tuesday, June 20th – 11:00am – 12:00pm
The New Normal: Strategic Staffing and Retention Approaches for Employers
Presented by: Adrienne Schleigh, SHRM-SCP – Senior Director, HR Strategic Placements, HR Works, Inc.
Overview:
Let's
talk about what the new challenges are in recruitment (as related to what happened in the pandemic), and what employers are doing to attract and
retain
employees. 
We will
dig in on compensation reviews, ongoing
check-ins
, new concepts for benefits (
ie
. what benefits do employees want), remote/hybrid work (when to offer, what to do when you
can't
), and gathering data through employee surveys.
Date: Thursday, June 22nd – 10:00am – 11:00am
HSAs and Medicare: The Rights, the Wrongs and the Rules
Presented by: Paula Venné-Clendening – Benefits Consultant – Medicare/Individual Insurance Plans, Walsh Duffield Companies, Inc. 
Overview:
As High Deductible Health Plans paired with Health Savings Accounts (HSA) gain popularity with employers, individuals are
benefiting
from tax advantages and saving toward future health expenditures with HSAs. However, things can get complicated when Medicare enters the picture, especially as people
remain
in the workforce well past age 65. This presentation will take a deep look into how Medicare eligibility can affect the ability to contribute to an HSA and strategies to help your employees maximize their contributions while avoiding problems with Medicare down the road. 
Date: Tuesday, June 27th – 10:00am – 11:00am
The Power of Prevention: Mitigating Workers' Comp Risks Through Safety and Best Practices
Presented by:  Joseph Coniglio – President, OSEA, Inc.
Overview:
Preventing workplace injuries and illnesses is essential to protect both employees and businesses from the financial and reputational costs of workers' compensation claims. 
In this webinar, we will discuss the importance of implementing best practices for workplace safety and the benefits of having a comprehensive safety program in place.  We will share recent industry trends and discuss ways to mitigate risk, avoid claims, remain compliant, and ultimately lower workers' compensation costs.